The Best Travel Products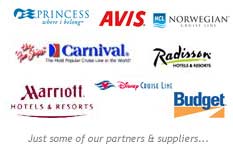 Best of Breed Supliers

AffinityTrip Travel Products are not only easy to install, but they're easy for your customers to use! All of our feeds and templates are prepackaged and require virtually no set up. Deals are served and content is updated from our end, so once you've completed installation, you never have to lift a finger, allowing you concentrate on the most important aspect of business: marketing.
When you partner with AffinityTrip, you can rely on:
Unparalleled service
Streamlined booking process
Cutting-edge technology
Seasoned travel experts
Exceptional vacation experiences
Savings up to 70% off
Exclusive savings from 22 cruise lines, 48 car rental companies, 500 airlines and 68,000 hotels
Access to best fares
Simple Set Up
Superior User Experiences
Detailed reporting
Proven technology
Easy-to-use interface
Additionally, all AffinityTrip services feature the best travel products, so you can be confident that what you offer your customers is of the highest quality with the most competitive pricing.